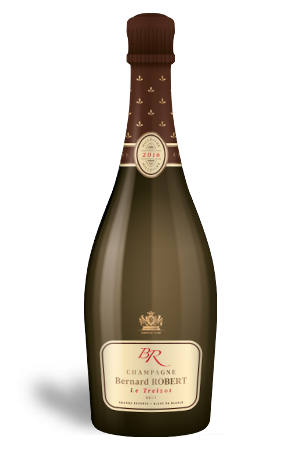 Champagne Le Treizot Grande Réserve 2016
100% Chardonnay.
This vintage Champagne comes from a selection of our best Chardonnay. Le nez (smell) has a sweet, baked pastry aroma (brioche) along with a pronouced ripened fruit odour that reveals its beautiful aromatic expression. In the mouth (La bouche), sensuality and curves join together ambitiously. The body of the initial impression in the mouth prevails to a fresh and persitent finish. An elegant and charactered Champagne.
Double Gold medal winner in the Gilbert & Gaillard guide in 2023
---
Food and wine pairing: with an appetizer. As a starter with foie gras, lobster gratin, crayfish or scallops. As a complement to white meat, grilled fish or delicately sauced fish or mild flavoured wild game.
No need to worry about quality as we practice 'viticulture raisonnée' reasoned/integrated viticulture in all of our vineyards.