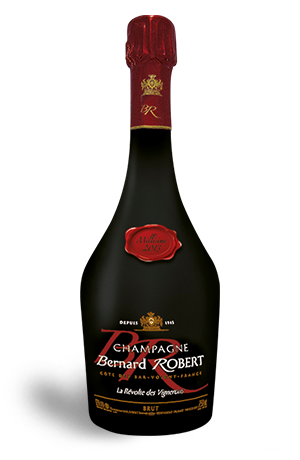 Champagne La Révolte des Vignerons (The Winegrowers Rebellion)
100% Pinot Noir. 
LIMITED EDITION. Available in 671 copies.
Exclusively elaborated from Pinot Noir, this vintage Champagne is aged in oak barrels and is available as a limited edition (only a few hundred bottles by vintage), it fully expresses our estate. Le nez (smell) is intense and pronouced by odours of dried and candied fruits. La bouche (in the mouth) is elegant and corpulent, finding its balance in a perfect freshness. This vintage, presented in a silk-screen printed bottle pays tribute to the winegrowers of 1911, who revolted in order to keep their right to the appellation 'Champagne'.
---
Food and wine pairing: This balanced Champagne goes marvellously with an appetizer but equally accompanied by white meats, grilled 'andouillette' (a local chitterling sausage) or a bloomy rind cow's cheese such as Chaource or Vacherin.
No need to worry about quality as we practice 'viticulture raisonnée' reasoned/integrated viticulture in all of our vineyards.