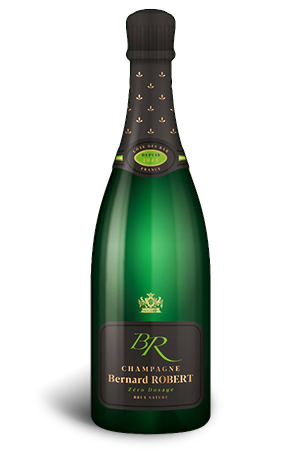 Champagne Natural Brut without 'liqueur de dosage' (wine mixed with cane sugar)
60% Pinot Noir, 20% Pinot Meunier (black grapes) and 20% Chardonnay (white grapes).
An anniversary vintage, using our traditional 'house' blend. No added sugar therefore without 'liqueur de dosage' in order to preserve its authentic flavours.  Its long ageing process totally unveils the expressiveness of our grapes and land.The bouquet is clean and clear, exquisite and fresh, revealing aromas of dried fruits and gingerbread. The palate is energetic and generous.  In vogue for aficionados!
Silver medal winner in General Agricultural Contest of Paris in 2018
Gold medal winner in the Gilbert & Gaillard guide in 2023
---
Food and wine pairing: This vintage marries pleasantly with sea food or sushi and is particularly appreciated with an appetizer.
No need to worry about quality as we practice 'viticulture raisonnée' reasoned/integrated viticulture in all of our vineyards.